National Day of Prayer
May 2 @ 11:30 am

-

1:30 pm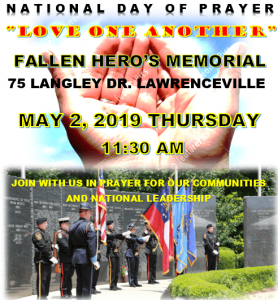 Bridge The Gap Ministries, a GGRA Diamond Sponsor, is holding a National Day of Prayer event beginning at 11:30am on Thursday, May 2nd at the Fallen Heroes Memorial located in the back of the Gwinnett Justice and Administration Center's main parking lot. This is an exciting opportunity for you to join with local faith based leaders and prayer warriors to pray for the criminal justice system and for our nation. You will have an opportunity to send a prayer to an employee of GJAC as well as someone incarcerated at the Gwinnett County Jail.
Program:
Pledge Allegiance – Rev. Russell Gray – Bridge the Gap Ministries, Inc.
Music: National Anthem
         Rachael O'Dell – Greater Gwinnett Reentry Alliance
Welcome to Corporate Prayer for America and our community:
         David Burgher – Bridge The Gap Ministries, Inc.
Hate what is evil; cling to what is good. Be devoted to one another in love.
         Clyde Strickland / Charlotte Nash
Honor one another above yourselves. Never be lacking in zeal, keep your spiritual fervor, serving the Lord.
         Pamela Hillman – Life Changer Legacy
Be joyful in hope, patient in affliction. Faithful in prayer.
          Rev. Patrick Batubenge
Share with the Lord's people who are in need. Practice hospitality
         Melvin Everson 
Bless those who persecute you; bless and do not curse.
         Juan Bennett – Bridge The Gap Ministries, Inc.
Rejoice with those who rejoice; Mourn with those who mourn.
        Robert Whittaker – "Be Encouraged" Ministry
Live in harmony with one another. Do not be conceited, but associate with people of low position.
        Daniel Flagg – Bridge The Gap Ministries, Inc.
Do not repay anyone evil for evil. Be careful to do what is right in the eyes of everyone.
        Hazen Stevens – International House of Prayer
If it is possible, live at peace with everyone.
        Richard Douglas – Good Samaritan Ministries, Inc.
Do not be overcome by evil, but overcome evil with good.
        Gregg Kennard – State Representative, District 102
Responsive reading – I Cor. 13. Love that NEVER Ends.
        Rev. Paul Millarc – First Baptist Church Lilburn
Music : Battle Hymn of the Republic – Bill Wiley